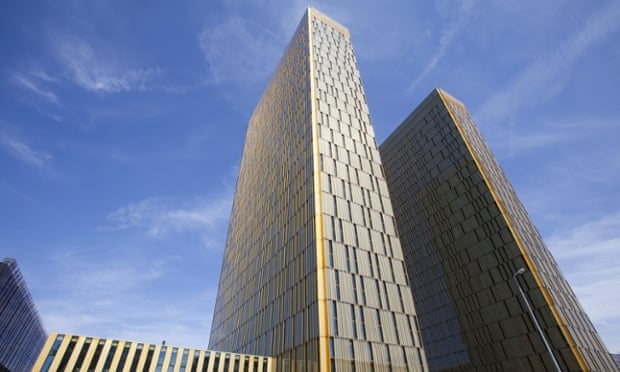 Good morning, and welcome to our rolling coverage of the world economy, the financial markets, the eurozone, and business.
Coming up shortly…. Europe's top judges are ruling whether the European Central Bank has the legal right to buy unlimited amounts government bonds.
The European Court of Justice will give an interim verdict on the ECB's "Outright Monetary Transactions programme"; its pledge to help a member state in financial problems by buying as much of its debt as necessary.
Although OMT has never been activated, its creation helped to calm the eurozone crisis in 2012. And if the ECJ comes down against the programme, it could hamper president Mario Draghi's ability to create a new quantitative easing programme.
The announcement comes at 08:30GMT.
The ECJ was asked to rule on this issue by the constitutional court of Germany, where there is clear opposition to the idea of one eurozone country's borrowing being financed by another.
Analysts reckon the ECJ is unlikely to block government bond-buying altogether, but it could raise a warning flag over an 'unlimited' programme, which would then hamstring the ECB from launching a massive open-ended QE programme.
In short, even though today's decision is non-binding, it matters.
As Nick Matthews of Nomura put it (via the Financial Times):
"If the ECB committed to buy a monthly amount of government bonds until the outlook for inflation improves, it would be a much more powerful, more flexible and more credible form of QE than just naming an amount of purchases within a certain timeframe,"

"It would give markets more certainty that the ECB is willing to do 'whatever it takes' to try and return inflation to its target."
Also coming up today….
European stock markets are expected to fall back, after a nervy session on Wall Street yesterday that saw the Dow Jones flail around.
Datawise, a survey of EU industrial production data for December is released at 10am GMT.
Bank of England governor Mark Carney is testifying to parliament's Treasury Committee, from 2.15pm GMT, on the latest Financial Stability Report.
Spain's prime minister, Mariano Rajoy, is visiting Athens.
And in London, we get financial results from fashion chains Burberry and SuperGroup, and online grocery Ocado.
I'll be tracking all the main events through the day.